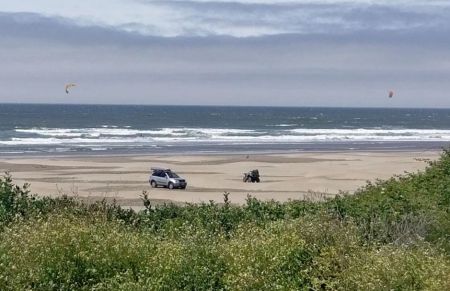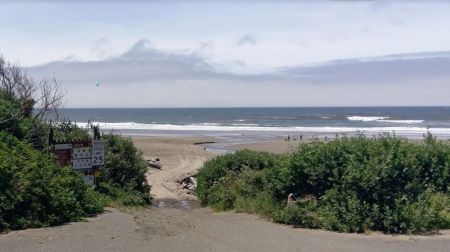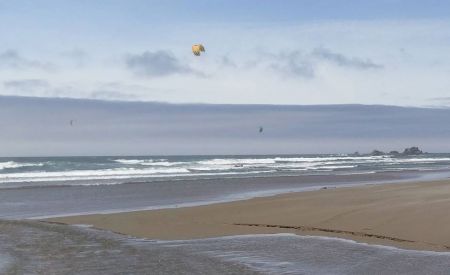 Whiskey Run (and Bullards Beach)
South Oregon Coast
| | | |
| --- | --- | --- |
| Season: |   | Year Round |
| Wind: |   | North & South |
| Style: |   | Wave Riding. Bump & Jump, Dwer |
| Best For: |   | Windsurfing, Kiting |

  
Located just 20 minutes north of Bandon, about 1/2 hour drive north from Floras Lake, off Highway 101. Consistent wind, easy to find, remote, this is a wave spot for advanced windsurfer and kitesurfers. This spot is about 20 mn off the 101, so you will have to plug it into Google maps. Public parking on both ends.
This place is a great quality spot, waves are good and gentle. It can get big (make no mistake about that) but on summer days is usually small. It is a bit remote but worth the drive - make it an all afternoon deal because quick sessions there will require a 4x4 to get on the beach, setup and go; for all others without 4x4: plan on 30 min setup, 30 min derig and walk.
There are two launches for this stretch of beach:
Whiskey Run (North): at the public parking lot at the end of Whiskey Run Lane, following the Whiskey Run river. You can either park on the lot and walk down to the beach with your gear. For windsurfers, this is a long walk on the beach similar to Florence. You can however bring your 4x4, drive on the beach and park right there on the packed sand. You can ride right upfront, or go upwind a bit where the setup is nicer. If you do drive on the beach, then drive north towards the protection of the small bluffs: it's easier to setup your kite there, and there's more protection from the wind. You can camp there on the beach as well. Chances are you won't be alone riding or sailing.


Bullards Beach (South): at the public parking lot. Map it.There's a camp site near by. Nothing extraordinary about this place, except the beach is flat and therefore provides good waves for kite surfing or windsurfing. The wind is strong. This is a classic Oregon beach break.
This place is ideal if you stay in Floras Lake with beginners but need an Ocean fix because there's no more grass for you to mow on the lake :) Especially important because the ocean by Floras Lake isn't rideable/sailable (go read about it on the Floras Lake page), so this spot is the closest you can get to and sail or kitesurf without being alone.
This place is great for downwinders on North winds or South winds. For north: start at Whiskey Run. for South: start at the Bandon North Jetty, or Bullards.
Where to Stay
Camp on the beach at Whiskey Run
Stay anywhere in Bandon: tons of inns & B&Bs
What else to do?
Golfing at Bandon Dunes Resort. This place is probably one of the top amazing places to Gold in the entire state of Oregon. Don't miss out if you like golfing.
Fishing on the Coquille River. The river bends around the town of Bandon.
Map and Directions