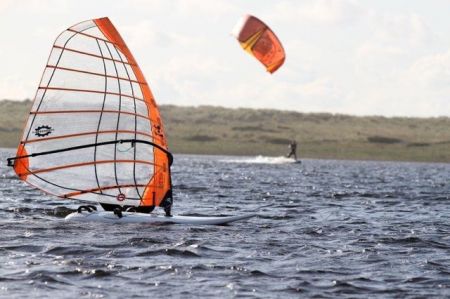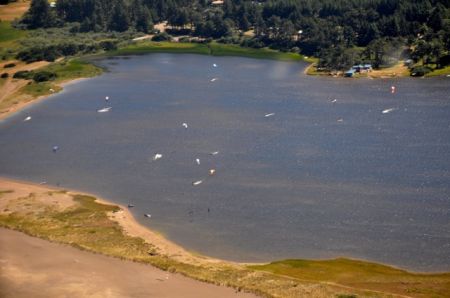 Floras Lake
South Oregon Coast
| | | |
| --- | --- | --- |
| Season: |   | April - September |
| Wind: |   | North |
| Style: |   | Flat Water |
| Best For: |   | Windsurfing, Kiting |

  
Located in the town of Langlois off Highway 101. Camping is great here, plan in advance. Consistent wind, easy to find, great for families. We used to give this place only 3 stars, but we upped to 5 stars because it is an amazing place to visit at least once, and it is an incredibly safe environment. The only variable in your planning will be reserving your camp site, the place is packed in the summer. There's no tide, currents, sea creatures or waves to worry about - and the wind starts to blow at 8 am.
Although not a true coastal site because it's not on the Ocean, it deserves a mention on this website. Most coast sailors skip this place since it's essentially flat water sailing and there are other great ocean spots nearby such as Whiskey Run 20 minutes up north and the whole Gold Beach scene 35 minutes south, for the commoners it's a good place to checkout.
It does attract a fair share of windsurfers (10%) and kiters (90%). Beware that people come here to learn to kite or windsurf, so you will have to dodge kites, jetskis, and windsurfers and the runs are very short. Come here to learn tricks, practice advanced moves, or even learn to foil (it's actually great for foiling).
Wind here picks up at 8 am and slows down at 9 pm. It continues to blow all night so you can foil under full moon, ask the guys at the kite school. They do it regularly. It is way windier in the afternoon than in the morning: so take morning lessons (9 am). Starting at 8 am on a 10m kite will see you downsize by 11 am to a 7m kite. Bring your 5m kite, you will use it in the afternoon. If you don't bring anything, don't worry you can rent it all from the kite center.
Bring your dog, bring your kids, bring your wife, bring your parents - get them all on the water. Because the wind doesn't slow down and the place is filled with beginners, people do run out of gas and you will have the place for yourself around 4 pm or so, best sessions are around 5 pm.
It truly is a very safe environment: warm water, shallow, close to land, and the Floras Lake kite center folks will rescue people with their jetski in exchange of a few beers, so you don't have to worry. They are very cool people - it's clear that they run the lake :)
All in all: good place to stop by if you want a spouse and kids to ride and enjoy the water sports. Most coastal locations aren't beginner friendly due to strong winds, waves and currents. Other beginner spots can be found on the coast, but none of them will have all the amenities this particular lake has to offer.
There's a good website offering windsurf and kiting lessons at http://floraslake.com - The owner and his kids are pretty cool. Here's an article about them and a video; go check it out: https://www.adventuresportsnetwork.com/travel/roads-end-southern-oregon/. Living the dream.
Note about Ocean riding at Floras Lake:
Floras Lake is along the ocean. So you might be tempted to think: "hey while the kids are taking lessons on the lake, I'll just hit the ocean for a decent wave riding moment".. well think again: the beach at Floras Lake is not rideable or sailable. Sure, people have done it and people will continue to do it. But let's just say there are a million other places you should go before hitting this sorry beach.
The beach is very steep and goes deep very quickly, which means waves break on the sand and will shred your fins, there is no outside wave to surf when it's small. It can be OK when the tide is low and out. There is little wave riding unless it's big (or winter) - and when huge you will see a shore pound that will make you think twice about it.
So, spare yourself the illusion: there's no surf to ride at Floras Lake, instead drive 20 minutes north to Whisky Run - a much cleaner and better wave riding spot.
Where to Stay
Trips to Floras Lake usually require lodging arrangements:
Map and Directions