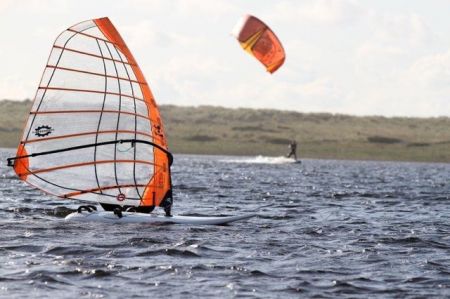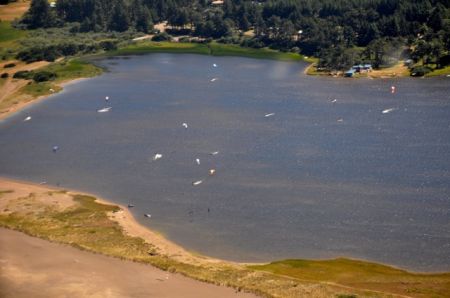 Floras Lake
South Oregon Coast
| | | |
| --- | --- | --- |
| Season: |   | April - September |
| Wind: |   | North |
| Style: |   | Flat Water |
| Best For: |   | Windsurfing, Kiting |

  
Located in the town of Langlois off off Highway 101. Consistent wind, easy to find, great for families. We only gave this place 3 stars because how many stars can a flat water spot really get? The only variable to plan for is wind, no tide, currents or waves to worry about.
Although not a true coastal site, it deserves a mention on this website. Most coast sailors ignore this place because it's essentially flat water sailing and the Columbia River gorge is a better venue for flat water riding. However, most windsurfers en route to the Cape along with family members should/will stop at Floras Lake and give beginners the opportunity to ride on the water in a safe environment.
This is a good place to stop by if you want a spouse and kids to ride and enjoy the water sports. Most coastal locations aren't beginner friendly due to strong winds, waves and currents. Other beginner spots can be found on the coast, but none of them will have all the amenities this particular lake has to offer.
There's a good website offering windsurf and kiting lessons at http://floraslake.com
Where to Stay
Trips to Floras Lake usually require lodging arrangments:
Map and Directions