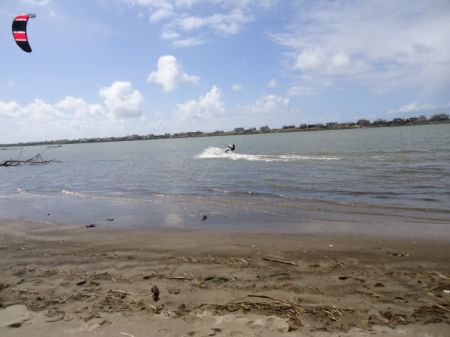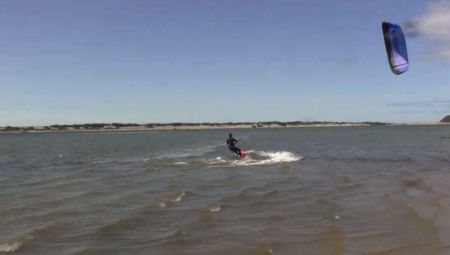 Siletz Bay
Lincoln City - Central Oregon Coast
| | | |
| --- | --- | --- |
| Season: |   | Winter Storms, Summer North |
| Wind: |   | N,S,SE,SW |
| Style: |   | Flatwater Blasting, Foil |
| Best For: |   | Windsurfing, Kiting |

  
Off the 101 south of Lincoln City. There are two spots here: the river mouth and the bay. Park near Mo's for riding the river mouth (north of the bay); or drive into Cutler City and park near the Josephine Young Memorial Park for bay riding. Parking in Cutler City is very restricted, please be mindful of where you park.
These spots work on south and north winds.
The Siletz Bay:One of the best light or nuclear south wind spots, works on summer north winds if the ocean is huge, and is one of the safest and most accessible. It's flat water. The river flows on the west side of the bay and there is always water, even at low tide. Plan your session with the tides: incoming tide or slack tide is best, as the current will flow against the south wind (think west wind in the gorge); outgoing tide will have you struggling to stay upwind (think east wind in the gorge). High tide offers the longest rides, but it's rideable at low tide and is a great place to learn how to kite in shallow water in the winter.
The Josephine park in Cutler City is the best place to start/launch. It's shallow on the Cutler City side, which is perfect for beginners - windsurfers or kiters. Kiters should watch for a few tree stumps that are planted in the sand near the shore, but besides that it's pretty safe and fun. Grass rigging within the park, sand on the shore (not mud), and waist-deep water for several hundred yards before the deep channel. Rides are way shorter (~500 yards) than Netarts Bay (~1300 yards) by a long shot, but this place takes the South East winds, which makes it a great option since most south wind storms are never truly south: they either have a touch of east (shutting down Netarts), or a touch of west.
The River Mouth: Primarily a kiting spot, but experienced windsurfers could make it work. Watch for tides! Incoming tide or slack tide only - do not go out on outgoing tides, or you will get flushed out to the ocean. The river mouth is typically a south wind spot, walk all the way to the west end of the beach and launch there. On a huge day, you won't ride much more than the inside reforms, but on a small clean day, there will be lots of great waves to be ridden, left and rights. Best on a South / South West. Don't ride alone. Very fun spot.
Map and Directions
Videos (oldies)