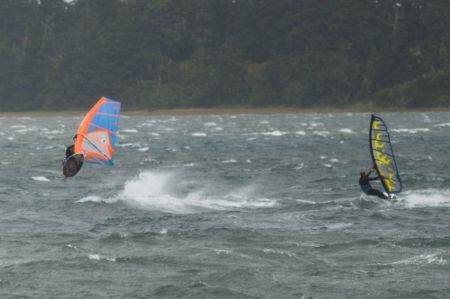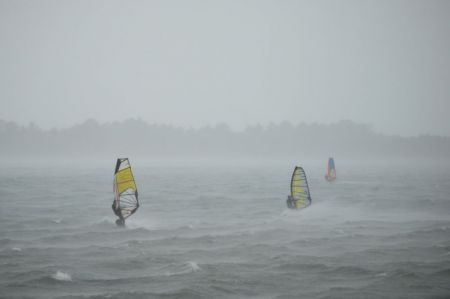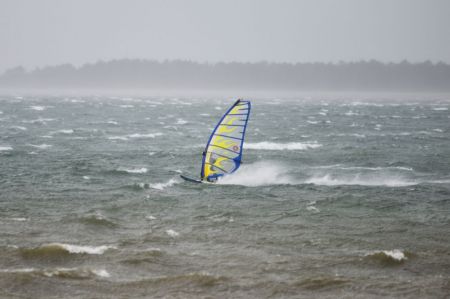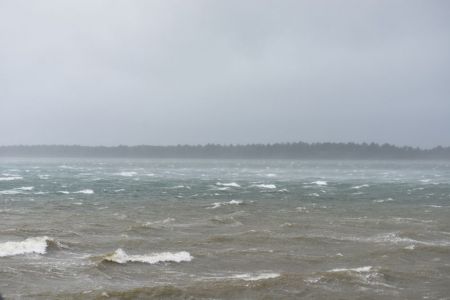 Netarts Bay
North Oregon Coast
| | | |
| --- | --- | --- |
| Season: |   | October - May |
| Wind: |   | South |
| Style: |   | Flat Water Blasting, Bumps, Foil |
| Best For: |   | Windsurfing |

  
Getting There
Easy access:
Go to Cape Lookout, keep driving north descending into the bay; or from the 101 go towards Oceanside and take the directions towards Netarts bay. The launch is by the portable bathrooms parking midway down the bay.
This is a south wind sailing spot. Mostly a retreat spot for when the winds are howling 3.7 and the ocean is gigantic, or for sailing easy 5.0 south winds in calm beautiful waters. Rain likely. This bay is subject to tides, so time your sessions accordingly. Avoid sailing when tide is going out because you don't want to get dragged to Oceanside in case of breakage.
This spot requires a minimum 5.5 ft high tide to be sailable. Multi fin boards a must because you can sail over the shallows. Most of the bay is waist high deep except in the channels.
It's beginner friendly. Again, only sail at high tide. Current starts moving 1 hour after high tide.
Tide information is here: http://tbone.biol.sc.edu/tide/tideshow.cgi?site=Netarts%2C+Netarts+Bay%2C+Oregon&units=f
Spots nearby are Manzanita, Barview and Oceanside.
Map and Directions