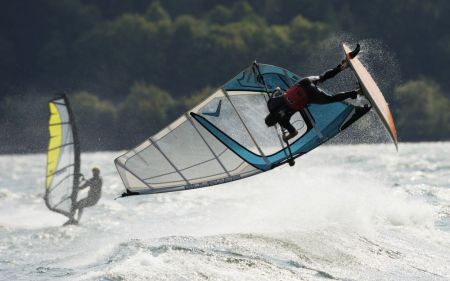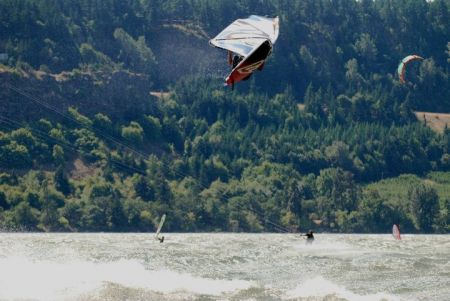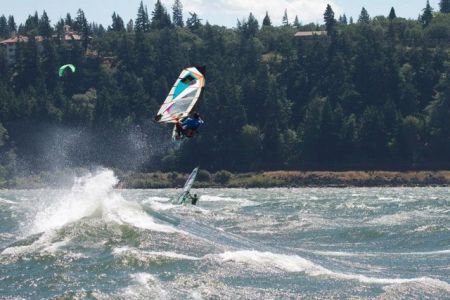 The Hatch
Oregon Columbia River Gorge
| | | |
| --- | --- | --- |
| Season: |   | March - October |
| Wind: |   | West |
| Style: |   | Swell Riding, Bump and Jump |
| Best For: |   | Windsurfing |

  
Located on the Washington side a few miles west of the Hood River bridge, the Hatchery is the most popular windsurf spot on the Columbia River. For a good reason: it's windy and well exposed, river current forms short swells (not waves), it's easy to get to, and it's a scene of air tricks, crazy gybes and free style moves. All pros and aspiring pros will be riding here. It can add palpable pressure to perform on the water. Some like it, some don't. In the end, it doesn't really matter, what's important is to get on the water and have fun. So get out there and have fun.
While there are very experienced kiters riding here, the Hatch isn't a kiting spot and is a very difficult launch. Please avoid kiting here.
The hatch is a pretty fun place to ride. It's fairly uncrowded and awesome in the spring and fall. It's good in the summer too, but the crowd can get to you and the current may not allow fun swells to form. It's not uncommon to score a 3.7 session at 8am before the crowds shows up.
Short drive from Portland (45 mn). Remember you must exhibit a valid Discovery Pass at all times in your car or risk a juicy $80 ticket. You can buy the pass (~$30) at convenience stores.
Two launch spots: the west point or the east section by the bathroom. West point is tricky and sailed by more experienced riders, dings likely on feet and/or equipment, east launch is convenient and has grass rigging. You'll also have more room to sail.
On the water, please behave, watch others, look when you gybe and stay out of people's way. This is not a beginner friendly site. Expect people to launch jumps in front of you.
Map and Directions