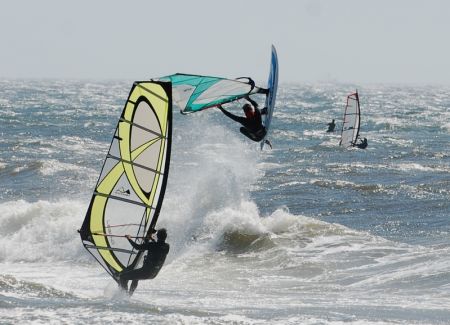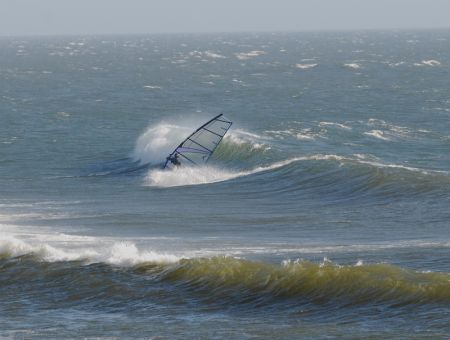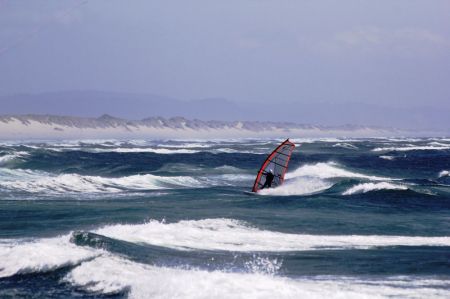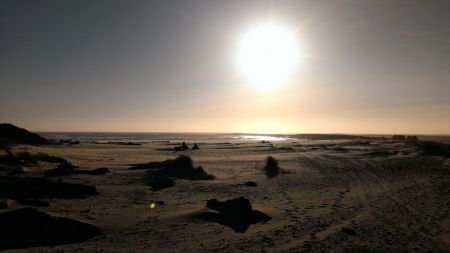 Florence
Central Oregon Coast
| | | |
| --- | --- | --- |
| Season: |   | April - September |
| Wind: |   | North |
| Style: |   | Wave Riding. Bump & Jump |
| Best For: |   | Windsurfing, Kiting, Surfing |

  
The entrance is about a thousand yards south of the Florence Bridge off of 101 there is a pay station here but the parking on the south jetty belongs to the Army Corps of Engineers, so you do not need to pay the fee that the ATV riders pay to ride in the park. If the rangers are at the pay booth simply tell them you are going surfing on the south Jetty they will let you pass for free. The road out to the Jetty seems to go on for a good 10 minutes so just keep driving. Don't speed a few windsurfers have ended up with speeding tickets on the road out to the jetty. The jetty can be a NASTY place for non sailors when it is blowing! Conditions on the beach can be miserable, but non-sailors can hide behind the rocks near the shore of the jetty and be almost entirely out of the wind.
If you have never sailed the Oregon Coast and are new at ocean sailing, then Florence is a good place to start. It's user friendly for beginners, there are always kiters and people there in case you get in trouble. If you are completely new to ocean sailing then avoid going out if the swell is over 5 ft. There are many days in the summer when this place is blown out and has very gentle surf. Depending on the sand bar setup, the peaks are usually well spread out and the inside section provides plenty of space to pick up speed and hit jumps on the outside sets.
Florence is also one of the most reliable places for wind on the Oregon coast. However it can often be a late start. It is not uncommon to wait till 3 or5 pmfor the wind to start at Florence. Depending how far out on the Jetty you park it can be a bit of a walk to the water.
Live webcam http://apps.lanecounty.org//webcams/harborvista/HarborVista.aspx
Map and Directions